A Brief Edmonton History:
"Daughters Day celebrates the lives, contributions, and achievements of all daughters, while seeking to equip people to work for a world and community where every daughter has full opportunity to achieve all she can without discrimination or abuse."        From the Edmonton 2020 nomination form
Daughters Day was a result of an Indo-Canadian Women's Association project to address the issue of violence against immigrant women through education and awareness.  Meetings began in 2011 with 47 representatives from various community service organizations, embodying the consensus that any initiative to reduce violence against women must involve supportive men.  An organization, Canadians for a Civil Society, developed and Daughters Day became its flagship project.
The first Daughters Day event was held September 1st 2012.  Over 50 women have been honored to 2019 for their achievements in contributing to gender equality and the dignity and equality of all members of society.  Award recipients have been recognized for their work with immigration, health, domestic violence, social justice, racism, sexual assault and developmental disabilities as well as local community ventures.
Canadians for a Civil Society (CSS) strive to advance a culture of respect for human rights as well as gender equality through community events that celebrate women and foster an inclusive society.  With education and advocacy as tools to effect change in society, they seek to strengthen resolve on freedom from fear and to promote five pillars of civil society – respect, literacy, human rights, the rule of law, and meaningful economic opportunity.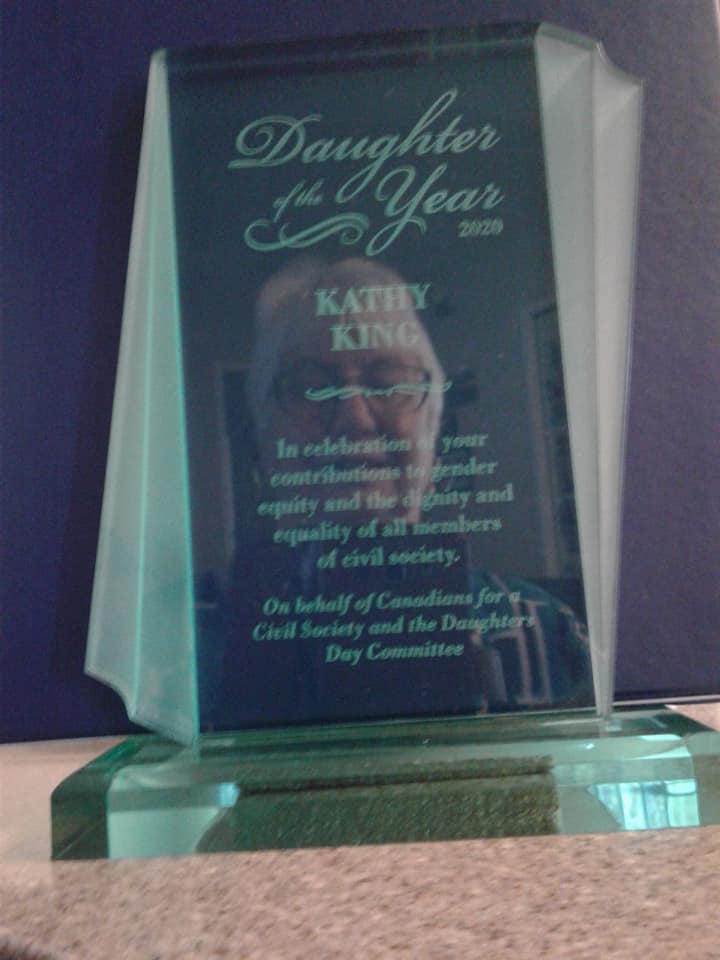 Personal Statement:
My nomination came as a complete surprise and was made more special because it was initiated by a young woman advocate, a vicarious daughter, whom I have admired for years.  April Eve was chosen as a Daughter of the Year in 2013 for her work with missing and murdered Indigenous people.  She is co-founder of Stolen Brothers, Stolen Sisters and has organized a number of marches and memorials in the Edmonton area.  I attended many of these and at first knew April Eve only as the lady behind the megaphone.  Over the years, we became more acquainted as we shared various projects and our work with the MMIWG Inquiry.
My nomination included references from three other passionate advocates I am proud to call my friends – Juanita, Andrea, and Kate – all of whom have been recognized in many ways over the years for their dedication and hard work.  The cause we share is to provide support for survivors of sexual exploitation and to shift societal attitudes to help reduce and prevent human trafficking.
I feel rather old to be honored as a daughter.  After I losing my own daughter in 1997 to forces beyond my control, my mission has been to increase awareness of vulnerability so other young people can receive the services and security she was denied.  Every woman has become my daughter in memory of Cara.
And so I also give thanks for the beautiful, fun-loving, child-like and generous spirit who was probably more special needs that I realized and whose descent into the darkness of addiction and mental illness left us both helpless and afraid. 
My biggest regret is that I didn't know how to be a better mother through the trying times.  If I had been more grounded as a parent, I might have been able to prevent her destruction and guide my innocent and adventurous little Cara to live her unique role in the world.
My wish and hope is that all mothers can receive the help and healing they need to ensure their daughters are cherished, safe, secure, and fully supported to optimal development.
It is perhaps significant that the first Daughters Day in 2012 happened on Sept 1st, 15 years after Cara was found Sept 1st, 1997.  The official launch of the MMIWG Inquiry happened four years later on Sept 1st, 2016.
I was given one minute to speak when accepting my Award at the virtual ceremony.  These are the words I shared: 
I am honored to be recognized for my involvement in raising awareness about human rights. 
For many years, I have chosen to speak on behalf of those who have not survived.  We know there are thousands of missing and murdered women across Canada.  Too many of these cases have not been solved. 
Not all missing and murdered women are Indigenous but a large percentage were.  All were marginalized in some way and many were sexually exploited.
This leads me to speak on behalf of the millions of women and children around the world who are trafficked every year for the so-called sex trade, an exploitation that puts all vulnerable people at risk, and that exists only because of consumer demand.
We need to create equal opportunities for independence and security so all daughters are protected from exploitation and are free to develop their sacred roles as creators, leaders, healers, providers, and protectors.
Thank you. 
Virtual ceremony to be held Sept 26. Live link to follow.